Style is important to me...but even more important is looking at my space and seeing the things I love. There are, however, styles to be reckoned with. Styles can mix together by cohesiveness. In my opinion, when there is a cohesiveness, there is beauty. When I was young and my mother and grandmother and great grandmother decorated, there were rules that people followed. You would never find something rustic mixed with something traditional. Most of the time, you wouldn't even find anything rustic, except maybe on the lawn. I don't think I ever saw something contemporary mixed with something victorian. Now hey, I could be wrong, but I'm talking about in the 50's and before. I think it was the radical, let's break all the rules 60's where all that changed. Outside came in and inside went out. I loved that...maybe because I'm a rebel at heart.
Even though I'm not too fond of rules, there are some that sort of apply dontcha think? I mean in decorating to be sure. The rule of beauty is one I'm especially fond of; but then again that's really subjective. I would love to hear some of your opinions. What do you think could be a good rule or rules of thumb in decor? In the meantime, some more of my favorite things..............
Can you tell I LOVE white and neutrals?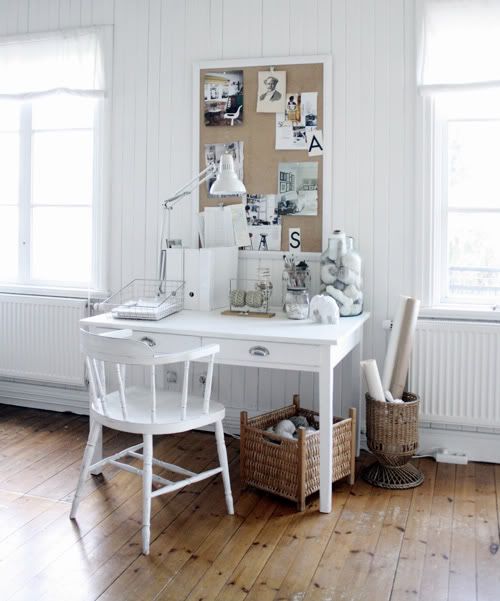 When it comes to color, I like to add it with accessories. Here's a perfect example.
(above, from decorating with me and alice)
Pink, orange red and great big geometrics...that speaks YOUNG - FRESH......to me.
(decor8 blog)
And I'm always a sucker for all things Spanish...
(hgtv)
I chose the pic below mainly because of the coffee table/trunk.
(hgtv)
This one is from a home improvement blog on how to give your home architectural detail. (Something I'll have to do, for sure, in the new space.)
Today in church the pastor spoke about what makes you come alive. Me? I just thought of making things beautiful. I thought of creating a beautiful space that just might give one a hint of heaven.....what do you think????? AND what's YOUR style...
Take care and have a great rest of this Sunday.